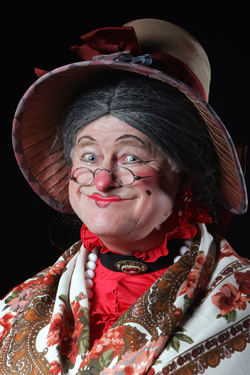 "Chris Harris is the funniest dame I ever saw."
Miles Kington,
The Independent
pantomime


- The Art of Pantomime Workshop
- A Night At The Pantomime

With his wide range of skills and background studies on this
unique form of British theatre, Chris Harris has become an
authority on the subject. As a performer, director and workshop leader, his knowledge of 'how to do it' is in great demand.

He has worked in both commercial theatre in pantomimes with
Bernie Cribbins, Adam Woodyat, Anita Harris, Eric Sykes,
Andrew Sachs, Janet Dibley, Leslie Crowther, Anne Charleston, Ruth Madoc, Sid Owen, Richard McCourt and also in
regional theatre where the show is more story based.

As co-writer with Chris Denys, late principal of the Bristol Old Vic
Theatre School, he co-wrote nine pantomimes for the
Bristol Old Vic. These pantos are to be published and are
available for hire, they are: Aladdin, Cinderella, Jack and the
Beanstalk, Mother Goose, Dick Whittington and Babes in the
Wood. To hire these pantomimes please contact Josef
Weinberger Ltd on 0207 580 2827.

The Bristol Old Vic Pantomimes were awarded a citation by the Bristol Chamber of Commerce for services to the life of the City of Bristol. He has been dame and director for UK Productions at Bath Theatre Royal for the past 7 years.

Workshops on directing pantomime have been conducted for
NODA at Warwick University. Workshops on the history and
practice of panto have been conducted for Avon Association
of Drama, Toulouse Secret Pantomime Society, Theatre on the Steps, Kids R Us, Spice UK, NODA South West, Thornbury Musical Theatre Group and Frampton Footlights, who received a lottery grant to help sponsor the event. These workshops are in great demand during visits overseas.

His book, Chris Harris' Alphabet of Pantomime , is available from bookshops or direct from ccharris@btinternet.co.uk; price £3.50 plus 60p P&P.Cheques payable to Chris Harris.